More Haarlem links
(in no particular order)
:
Gemeente Haarlem
- City Hall on the web; even some pages in english, german and french! .
Radio en TV Haarlem 105
RTV Online. News and weather.
startpingages
023.pagina
- A portal site for Haarlem. Quite good.
Haarlemonline.nl
- another portal site. Pretty extensive. IE only.
Boogo 023
- and yet another starting page. Rather good.
Hartje-haarlem
- Nice site with lots of pictures. Some tourist-info.
Haarlem Digitaal
- Muggen.net. Nice site about Haarlem. Used to have lots of sights, but I don"t see them any more. Nor the walks. Good links and some news.
Welcome to Ron's Haarlem Pages - A true patriot. Describes most of his beloved Haarlem: Haarlem can lay claim to a number of important firsts:The first railway line; The first electric tram; The first museum; The first football club; The first baseball stadium; The first newspaper in Europe; The first HBS (School for Higher Vocational Education); The first Teacher Training College.
A good overview of the town.
Haarlem - The Netherlands - Excerpt from "Rick Steves' book: France, Belgium & Netherlands.

vvv / touristinfo
The tourist board is at last the - pretty good - site of the Haarlem tourist board. Even german and english info at last. Oh well they used to close on sundays too. Selling the city to tourists? Why bother?
So come see for yourself! If you think I can help you, just mail me. See you in Haarlem!
- Aaargh,it runs in Internet Explorer only. Now that just does it.
VVV Noord-Holland - Cultural agenda of the province. Also accomodation and attractions. This site also is getting better.
Woltheus Cruises - Sail with our fully equiped ship to Amsterdam, Zaanse Schans with the small wooden houses and windmills, Alkmaarder Lake. Also daily cruises through the canals of Haarlem. See here also. I did the one to the Zaanse schans and enjoyed it.
Fast Flying Ferries - On the site of Connexxionn, go to fast flying ferries. Not really in Haarlem, but close. If you like boattrips. They have a speedboatservice between Velsen (north of Haarlem) to Amsterdam. This is a nice roundtrip either from Amsterdam or from the Haarlem railway station. From Haarlem Station take the bus #5 to Velsen Stationstraat and board the speedboat just next to the ferry. To Amsterdam it takes 30 min and they go almost every half hour. The vessels dock just behind the Central Station in Amsterdam. I just found out you can take your bike aboard for a mere 2.10 euro. To take your dog is 0.40 more expensive ;-)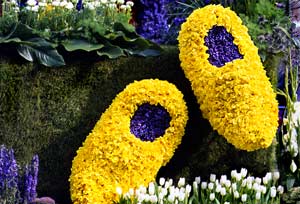 Its wooden shoes, captain, but not as we know it!

Keukenhof - The flower bulb garden of world fame is not very far from Haarlem. The planned train sadly never took off. It stays open now after the bulb season is over. They added some new gardens and exhibitions. The best time for a visit is the last week of april and the first week of may. This goes for the whole bulb growing region.

hotels
Amadeus on the Groote Markt: the most beautiful spot of Haarlem. They have a cybercafé ! They maintain a good site with tourist info.
Spaarne 8 - it IS a hotel. Stunningly restored 1765 classic listed building.
2 Deluxe Doubles overlooking immaculate private garden. Situated in the centre of the beautiful old city of Haarlem, with views of the river Spaarne. Superb base for exploring the Netherlands. Just 15-20 minutes from Amsterdam and Schiphol airport.
Complimentary drinks and breakfast.
Book long in advance. It was in every design magazine. Both in Holland and the rest of the world. Discreet security personnel can sometimes be seen sitting in their cars, indicating yet another celebrity inside.
It was in every garden magazine as well because of the garden of designer Dick Beijer. (Who also did the garden of Elton John )
Hotelinformation.com reservation online. Book your hotel in Austria, Belgium, England, France, Germany, Italy, The Netherlands, the Philippines, South-Africa or Thailand.

eating


Dinner Site Restaurantgids: Haarlem

- We have the most restaurants per capita in Holland. And some pretty good ones too.

Smulweb

- a site with restaurant reviews by customers. In Haarlem 140!

Dutch only. You have to register. Navigation is not very straight forward. By long it is not Chowhound or the Village Voice database (see my

NY links

).

Lekker

If you're serious about eating out: buy this magazine:

lekker

(i.e. yummy!) at the newspaper vendor. In dutch only. Their website too. They maintain a best of list and a searchable database with their ranking as a base. Please let somebody do a translation for them.

The Bokkedoorns

is their overall #5. The have 2 Michelin stars. Price bracket accordingly: expect to be spending around euro 90,- pp and up. Still great food, though maybe not going for the 3rd * as some years ago. It's situated just outside Haarlem on the road to the beach.

When somebody else pays the bill (and ferries me back home) this is my choice. The kind of place we celebrate anniversaries of the more memorable kind ;-).

When in Holland you have to eat Indonesian food (rijsttafel - rice table) at least once: My favourites in Haarlem:

Indonesian:

De Lachende Javaan

, Frankestraat 25-27 · 023-5328792 -modern and relaxed.

Indonesian:

Wisma Hilda

, Wagenweg 214 · 023-5312871 - classic and classy


My Favorites at the moment:

On the banks of the river Spaarne:

Lezer

, Spaarne 37 - 023-5335525. Take a look at the fabulous pictures of fish by photographer Piet van Leeuwen (who lives around the corner). Expect to pay euro 30,- pp. (new owners now.)
Watch this one: Lambermon's ! Still new! Hit the charts in it's second year as I expected. Hip theater-cooking/eating/be seen. Nice place. Rumor has it, he threw out the architect and in the end did everything himself. I can relate to that. (No offense, Hortense ;-))
Lets wait for the stars! Oh well probably far too cool for the belgians (all Michelin inspectors around here are Belgians). Expect to be spending around euro 70,- pp. Worth it! Check the sometimes daring wine suggestions!
On his site you can find the menu from about 15:30.
At all times you can check out yesterday's menu and regret you weren't there ;-)))

If you're a fish lover like me, go to the harbour of IJmuiden, just to the NE of Haarlem and go to Imko's fishrestaurant.
If you're serious about your fish, take the Marktmenu!
Expect to pay euro 60,- to 75,- but euro 110 is easily spent here as well. And worth it. Some great portwines ;-) Nice touch: driver's portions for the wine. This restaurant is situated on the top floor of a fish shop. Across the road is the fishmarket. No public transport to this outpost. And the barrenness of his surroundings made him at last announce his retreat from this wild wild west point. As long he is still there: go there! They publish their menu in pdf now. Even the Marktmenu!
Imko did stop his restaurant and went on at last. What a pity! I believe he will be running a hotel with a restaurant somewhere else. I'll keep an eye out.


A very very Dutch day:
In any weather, take a stroll to and on the pier at Ymuiden: a finger of 3 km that juts out into the sea with the best feel of what Holland is about: salt water and space. walk all the way out to the end. Have a look at the boulders that have been smashed and wonder about the force of nature here. Do NOT venture out there when closed. Rumour has it, that every year in a big storm the sea comes and takes a tourist (mostly german) as its rightly toll ;-)) In any case: the most serious sea rescue team of all the coast have their seat here. At 10 beaufort it is tempting, I must admit. But don't.
A bus service is running to the marina: 82 from Amsterdam Marnixstraat Bus station.
Take lunch at one of the beach huts.
On the way back have dinner at Imko's. Do make a reservation.

(back) to the first Haarlem links page

top